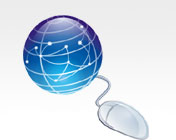 Since 2004, Meade Internet has been a complete internet out-sourcing solution. From search engine optimization & internet marketing, to website promotion, webmaster services and website design, we are dedicated to creating a strong web presence for your company.


Business owners today understand the importance of the internet, and the impact it can have on the bottom line. They also know that simply having a website is not enough, and that even the most sophisticated website is useless if nobody can find it. Therefore, they need to ensure that their company's website can be found among the millions of other related sites on the Web.

Even more importantly, it's vital that their website ranks at the top of the pack when a potential customer goes to a Search Engine or Internet Directory to look for products or services. That's where search engine optimization and internet marketing comes in.

For more information on how we can optimize your company website to achieve top search engine rankings, please see our search engine optimization packages, or email us at info@meadeinternet.com.

Meade Internet can design your website, too. We offer affordable website design services, ensuring that your company presents a polished, professional, user friendly face to the world.
| | |
| --- | --- |
| | By out-sourcing your Webmaster and internet marketing needs, your company saves money. You also have someone dedicated to bringing in leads and building traffic for your business. Check out our services page to see what we can do for you. |

More About SEO
What exactly is Search Engine Optimization anyway? And how can it benefit my bottom line? ...more

Internet Public Relations
The internet has changed everything when it comes to Public Relations. We can prepare your press release, then optimize it for the web, so that your PR gets much more traction than with traditional print media alone. ...more

Who We Are
At Meade Internet, we have over ten years experience in the SEO and Internet Marketing field. We have a proven track record of consistently achieving top search engine placements for our clients. ...more

Here's what our clients are saying:
"Meade Internet is a must have for any business. Derek is like have a magician who travels the highways of the world wide web, quietly during development but whose results are a wonderful surprise and pleasure. Our company went from limited exposure to top 10 in our key categories in only a few months. Derek is reasonable, thorough, honest and dedicated. He would be a true asset to any company who hires him."
Jennifer Jones
Owner & Managing Director
Joy of Dance Studio & Teachers College
"We have seen excellent results since we started working with Meade Internet. I know that a lot of our success is due to Derek's hard work."
Susan Closs
Proprietor
The Southampton Inn